Sarmita Bhattacharyya

Director
Hi!! I am the Director of the Pleasanton and San Ramon Centers. Teaching has been my passion since college. Seeing a child grow every day gets me going. It gives me immense pleasure when I see a child who come in to Trial Classes without being able to sit for 5 minutes and after 6 months in the program enjoying the classes for 2 hours.
Ami Mehta


Teacher
I graduated from Mumbai University with a Bachelors in commerce and Economics. I love inspiring children to learn and grow academically and socially by making learning hands-on and fun. In my spare time I love spending time with family and friends.

Mangala Mandyam
Teacher
I have been teaching at Brainomagic for over a year. I enjoy working with children. I find it very satisfying to see the children understand the concepts. The children in turn have taught me many things too. Overall, it has been a very pleasant experience!!!
Soumya Renukaiah
Teacher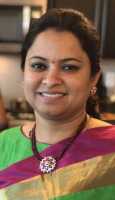 Hi my name is Soumya Renukaiah. I come from India, Bangalore and I stay here in Mountain house, CA. I have a Bachelors degree in Civil Engineering. I love working with kids and under the guidance of Sarmita and training with Puja, I am able to make my dream of working with kids come true. Now it's been 3 years teaching here. It's been an amazing experience interacting with kids and parents. It's inspiring to see kids growing academically and having fun doing it.